Commitment Ceremonies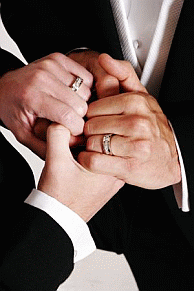 Treasured Moments Celebrated
To prepare and conduct a commitment ceremony that portrays your wishes using my creativity, sensitivity and professionalism to make this occasion unique and memorable for all.
Under Australian Law, same-sex marriages have not yet been recognised.
I know and understand that your commitment to each other is the same as in any heterosexual ceremony.
My role as a Celebrant is to choose words for the ceremony to reflect your values, your feelings and your wish to make a public commitment.
Your relationship is deeper than just 'friendship'; it is one of respect for each other, where you are concerned for each other's well being and happiness. You delight in each other's company and truly are soulmates.
You may wish to include a symbolic ritual to your special day.